hi folks,
now this would have been really quite funny had it not hurt so much...
So i finally bought a sintered glass diffuser and sodastream bottle adapter to get my presuurized co2 up and running (yay!). now the sodastream adapter i got came with its own set of problems, ie REALLY shoddy workmanship, but i'll post another thread about that.
The regulator that i had my brother make up for me as he in pneumatics. my bro knows his stuff with regs etc so i had no reason to think that this wouldn't do the job.
here is a pic: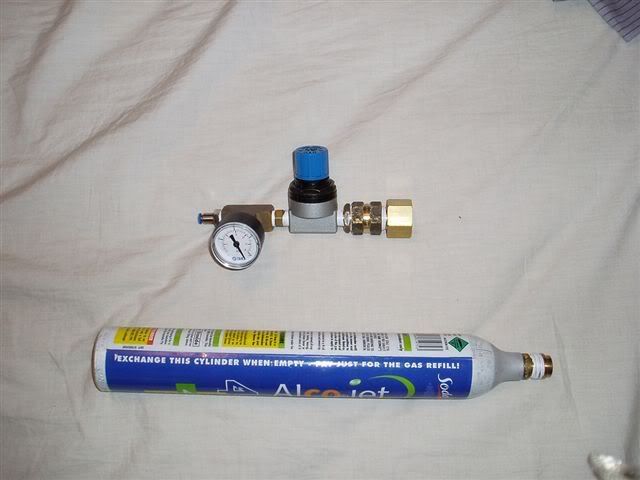 in the pic, the lighter coloured brass fitting on the right is the sodastream adapter/
with it all ready to go i eagerly screwed the sodastream bottle on, with the reg at zero obviously so i could slowly turn the pressure up to get the desired 1bps. The adapter instructions said i give the final 1/4turn to open the bottle. As i did so the unit gave off an enourmous bang and quite literally exploded in my hands!
it sent 600psi bottle pressure co2 at below zero all over my hand which was clasping the reg in a closed fist fashion. i kid-you-not my whole hand pretty much snap froze, and i got a really painful burn all along the inside of my thumb and index finger from the cold. the force of the gas coming out blew all my curtains off too which were on the other side of the room.
it doesn't end here though. connected to the end i had some 3mm high pressure hosing that i was going to connect to gang valve and diffuser. before it blew off, it took off like a cut snake and whipped me in face and leg. i'm really lucky as it hit me about 1cm from eye- this was also REALLY painful!
Straight away i rang my bro and was like "oi wtf man!" then he replied in typical tradey fashion. "ahh ok...what is the bottle pressue of the co2?"
"250bar" i replied.
"ahhh see there is your problem. that reg is meant for 300psi max, you've put 600psi through it. it'll explode if you do that."
"yeah NO S**T it exploded..." i again replied
so that was the end of my pressurized co2 setup (and very nearly my eye). i gave the unit to my brother and he opened it up and found that the regulating diaphram on both the guage and reg had split under the pressure which made the gas come out of everywhere.
its easy to see the funny side now, but i guess this is just a general warning for those attempting to use a "mocked-up" co2 reg that hasn't been proven to work. i was pretty lucky and got away with a nice little campfire story but i'd hate to see someone connect their diffuser up first and have that explode in their face!
the moral of this story- make sure you reg is a certified co2 capable of up to 300bar.
cheers