The Introduction
As the popularity of Crystal Red Shrimps grows in Australia, people will seek places to find out more about their new hobby. It is time to do up a beginners guide for the keeping of these wonderful invertebrates. This information has been gathered by my own experiences and also from other breeders. Use these experiences to help with your own setup and hopefully be able to assist you in the right direction.
The Basics
Water Parameters
The water conditions for these shrimp must be spot on as they are very sensitive to the nasties such as Ammonia, Nitrate and Nitrite. The rest you can be a little lenient with, however there are basic guidelines to stick with.
The following parameters are recommendations but generally accepted
pH: 6.0 - 6.5
TDS: 120 - 165
Temp: 21-24
Ammonia: 0
Nitrite: 0
GH: 3-5
These are the most common water parameters I could find and is what I personally abide by. I believe the most important thing to remember is that STABILITY is the key. If you can keep things consistent and stable you will have far less issues than worrying about exact parameters. The easiest way to establish this is by using RO or Rain water, more on this in equipment. The issue with using chemical buffers to adjust the water (such as pH up/down) is that they can be easily overdosed. This in turn reduces the consistency and stability of the water. Which can lead to rapid changes to the water conditions in the tank. When refilling my tank water I actually use the drip method as lately my RO Water's pH has been slightly higher due to the tap water. It takes around 2 hours for a 9L bucket to empty into the tank, which ensures the adjustment is slow enough not to cause any stability issues (I use an I.V giving set to accurately measure the drops per minute. Joys of being a nurse and an ambo I have access to this wonder stuff).
Copper
Copper is a nasty element that causes all kinds of issues for shrimp. It is highly toxic even in small doses and must not be included in our water supply. The easiest way to test for copper is with a copper test kit. There are many brands available but I personally use Sera Copper Test Kit (Cu), be careful that you do not pick up the Ca test kit as this is for calcium or the Cl as this is for Chlorine (althought it isn't bad to have a Cl test kit laying around). Other common brands are API and JBL. The easiest way to ensure no copper is in your water is with RO Water, as the membrane removes all heavy metals. Another great option if you do not have RO water is cuprisorb which is made by Seachem. This goes into your filter (much the same as purigen or macropore) to remove heavy metals and copper. With copper much like ammonia it is better to be safe than sorry. This is especially the case when 1 shrimp can cost more than the preventitive measure. As we always say in the nursing/medical field 'PREVENTION IS BETTER THAN A CURE!'
Some shrimp foods to contain copper, however NORMALLY these are ok as they only contain a small amount of organic copper that will not break down into the water stream. I personally feed my shrimp Hikari Shrimp Cuisine which actually has small amounts of Copper Sulphate in it. I have no had any issues with copper or subsequent illness in my shrimp because of feeding this.
As a final point on copper it is important to note than in humans copper is considered an important trace element as it works in conjuction with iron to produce healthy red blood cells and it also helps to produce energy. Now if this translates across to shrimp I am not sure, but for a major company such as hikari to include it in their shrimp specific food it must be there for a reason.
Tank Setup
This is another large area of contention. Some people prefer open landscape with minimal plants/caves to view the shrimp, some prefer plenty of hidey holes and plants. It is all up to the individual person and how they believe it best works for them. I personally prefer plenty of driftwood/plants to allow my shrimp to hide and graze. It is personal preference in the end, if it is working for you then why change.
I believe it is important to use a shrimp specific substrate, I personally use Benibachi but there are others out there such as Up Aqua, Borneo Wild and Fluval Shrimp Stratum. There are also other substrates that are used due to their buffering capabilities such as ADA and Akadama.
Each of these substrates will achieve different outcomes but most will have some form of the following; ph buffering and GH buffering.
This is the early workings of my tank
Equipment
RO Unit/Rainwater
I personally have an RO unit and it has been the best thing I ever purchased for my hobby, it allows me to control (with in limits) my water output. Unfortunately I live in Adelaide and our water is very hard and high pH, so the RO Unit does its best to bring these down. It is definately worth investing in an RO Unit or a Rainwater Tank to allow you to provide the best water possible for your shrimp. Keeping in mind 1 or 2 SSS quality shrimp can pay for an RO unit it puts it right into perspective.
RO Unit and TDS Meter
Filters
Filters are a dime a dozen, there are all kinds of filters that come in all shapes and sizes. I use a canister filter on my 40cm (an Eheim 2215) which has a sponge over the uptake tube to prevent shrimps from getting sucked up. I would recommend getting the best you can afford, look for any filter that has alot of biological filtration capacity as this is what allows bacteria to grow and prevent the nasties in your tank. People have had success using all kinds of filters and I am biased on canisters as I believe they offer best value for money. Below are some other examples that have been used with success,
HOB (Hang on Back) Filter
Sponge Filters
MBF (Moving Bed Filter)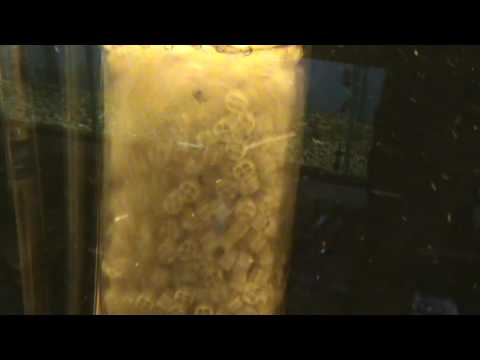 UGF (Under Gravel Filter) I will post a link to an excellent article that was written by Estimative_Index on UGF filtration with shrimp tanks
here.
Heating and Cooling
Heating tanks is as easy as picking the right sized heater for your tank, the cooling on the other hand is not so easy. It all depends on who you speak with as to what they recommend. I personally have a chiller, although as it is close to winter it is not currently connected. A chiller allows me to simply connect it to my cannister filter and it then automatically maintains my water at whatever temp I wish. Some people can not afford or simply prefer other methods to chillers and use things along the lines of fans blowing across the waters surface, bottles filled with ice (which then, when placed into the water defrosts and chills the water) and water changes.
Monitors
Within the aquarium hobby, we strive to maintain great water conditions to allow the shrimp the best of chance at survival and reproduction.Traditionally this is checked using test kits, however with the invention of the seneye unit it has become a whole lot easier. The seneye unit monitor in a real time setting: pH, temprature, Ammonia, Light and water levels. On top of this they are releasing a module that can test for Nitrates, Nitrites, GH, KH and Chlorine in the near future. If you have an issue it sends out an Email and SMS alert letting you know what the issue is.
This is the end of Part 1, I will be writing up another post shortly on sexing, breeding and maintaining a healthy environment for our friendly little shrimp.
Thanks for reading.