In the past 5 years of growing mosses and liverworts, I have been growing mosses and liverworts of
different types of objects. Best thing I am currently using is slate pieces and driftwood. I am also
experimenting with stainless steel mesh.

1. Slate pieces
(5x5cm)
HERE!
I purchased these in packs of 10 for $10, which is $1 each from Jag Aquatic Layout. These are natural
slates 1cm thick and cut to 5x5cm for easy handling. In my current 4x2x2, I have just got 100 pieces
of these slates creating an instant Mini Pellia and US Fissidens carpet. I have also attached a small
bobitus, needle leaf and windov java fern. After they all larger and thicker, the mosses cover then entire
slate creating an instant carpet. I have ordered another 20 pieces to attach some Monosolenium tenerum
to. I just use black cotton string to tie them down very easy.
Mini pellia on slates
US Fissidens on slates
Carpets in the making
Carpets completed (taken 3 months later)
2. Driftwood
(Can be purchased at your good LFS, I get mine from Aquaristic)
Driftwood has been great for aquascaping and I love that stuff. It can be easily purchased from you
local aquarium or even found in creeks and rivers. In the past I have attached many types of mosses
and liverworts and have had great results. Best outcome was tieing mini pellia on the driftwood
branches, they grew very well and thick, completely covering the entire wood and shrimps love it.
Your chosen mosses/liverworts can be easily tied down using black cotton. I try not to use fishing line
as it sometimes gets too hard and the knots are easy to come undone. Currently I have attached
subwassertang on the driftwood, they grown thick, growing upwards and some hang down, perfect
for shrimps
Also as a center piece, I have attached needle leaf java fern to a "Y" shaped driftwood
and laying it down on the substrate, eventually creating a huge clump of it in the middle.
Riccia on driftwood
Mini Pellia on driftwood
Mini Pellia on wood (first day)
Mini Pellia on wood (1 month later)
Mini Pellia 4cm thick on driftwood (3 months later)
3. Rocks
(can be found at garden stores, aquariums, riverbanks)
Rocks or Pebbles can be used instead of slates, but creating a carpet may take a longer time. Also if you
want a carpet to be flat, then slates should be used because rocks create an uneven affect. I usually only
use rocks are gap fillers in my carpet or around the tank. Mosses/Liverworts can be tied down using black
cotton in-which they would be covered up by growth later on. I tend to only use lava rock (for
mosses/liverworts to attach easier) and smooth flat pebbles.
Mini fissidens on lava rock
Different types of liveworts/mosses on pebbles
4. Stainless Steel Mesh
(purchased from ebay or forums)
Stainless steel mesh is great to attach moss and liverworts to. Some people have even attached ferns to it.
I have just started to use stainless steel mesh. I will eventually make a flame moss/mini pellia wall with it.
I have found fissidens looks great growing on the SS mesh using small netting over it. But a bad thing about
using SS mesh is that it is too thin, when you lie it down on the soil, the soil can sometimes cover the mosses.
Also if you down over the mesh well if your moss, then it will take a long time to cover the entire mesh (which
doesn't look natural in the tank). I have made some moss SS mesh caves by bending the mesh to form a "C"
shape and laying your desired moss/liverwort on the top. Tie it down with black cotton and let it grow, instead
of buying caves and shelters for your shrimps, why not try this?
Mini Fissidens on mesh
Fissidens cave, I make mine using 10x10cm sheets, so the caves are larger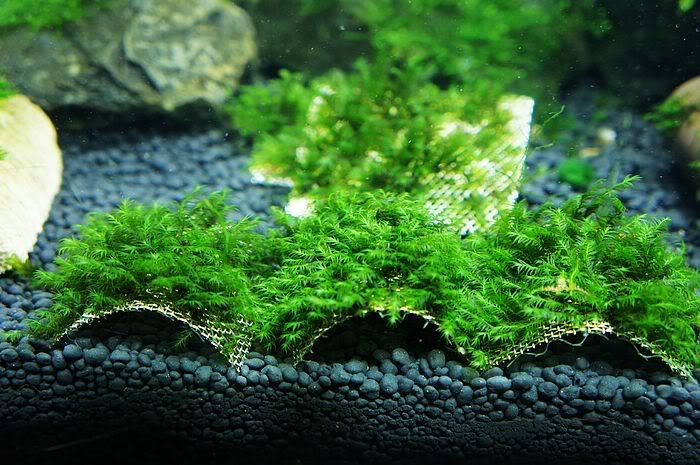 And a link to show you how to attach mosses onto SS mesh
Hope this helps
Stephen