The following business have requested their names not be mentioned on this forum under threat of legal action: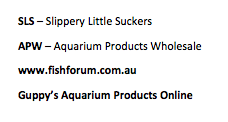 You will notice these names are censored out with stars when written on the forum. In the interest of the forum and all its users that we ask that you refrain from mentioning these businesses.
Posts with reference to the above businesses may be edited or deleted without notice, at the discretion of Aquarium Life staff.
Craig