So, I've finally been given the all-clear to set up a small aquaponics garden out the back of my house. I'm on a pretty standard suburban block and our house takes up a lot of the lot, leaving only about 2m at the back. I built a deck out there and over-engineered a corner of it for an outside tank / aquaponics set-up. Where I'm standing taking this photo (when it was built) is THE spot.
I have an old 6' tank in the garage which I planned to use inside. Luckily when I filled it up in the garage to check for leaks, it sprung one. I say "luckily" in that if had done that inside I might have been sleeping outside with the dog for a long while. So, I plan to patch up the leak and use it outside.
The tank will be covered by pellet gardens. If you're not familiar with the idea of upcycling old shipping pallet for use as furniture or landscaping then google it - it'll make you consider them in a whole new light.
My concept is to shield the glass and turn the tank into more of a pond and grow some nice flowers and herbs in them. You can see the broad theory in effect here:
A couple more pallets will provide a frame for a couple of growbeds which I'll fill with expanded clay (and eventually delicious veggies!
)
My Sketch-up skills are a bit lacking, but this is kind of what it will looks like...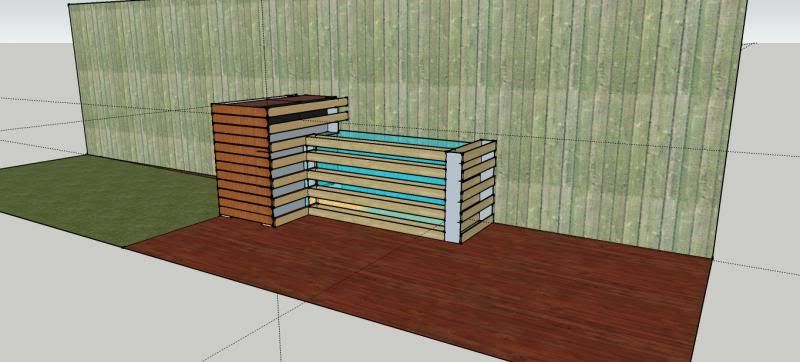 I won't be going for eating fish at this stage - most likely some local Dubouyali. Plant-wise I'll be going with lettuce, asian greens, spinach, snow peas and possibly a few others.
So far I've built a frame for the tank to sit on. Now I just have to find some muscle to get it from the garage to the back of the house!