Hello all. I went puddle pirating the other day and realized afterwards that I did not check if/what was legal to collect in my local waterways. I put this together to help others and put back into this fantastic community of aquarists. I have put together a fresh-water section, others are welcome to add a salt-water/brackish section if they can find the information.
QLD:
Anglers do not require a licence to fish recreationally in Queensland, except when fishing in some stocked impoundments. For information on stocked impoundment locations and licenses
see here
Queensland has provision for bag and possession limits to prevent over-fishing, see
here
When fishing in fresh-water, you are only allowed to utilise the following (See diagram below):
* a fishing line that consists of a hand-held line with or without a pole, reel or rod
* a trap that can be a canister trap (<50cm all dimensions, one open end), collapsible trap, dilly net (<1.25m diameter, <25mm mesh size), funnel trap (>70cm long + 50cm wide/high, less than 4 entrances >100mm dia; mesh size <25mm) or round trap (as for funnel traps)
* a scoop or dip net (no more than 1m in any dimension, mesh size <25mm, handle <2.5m)
* a set line within 200m of yourself.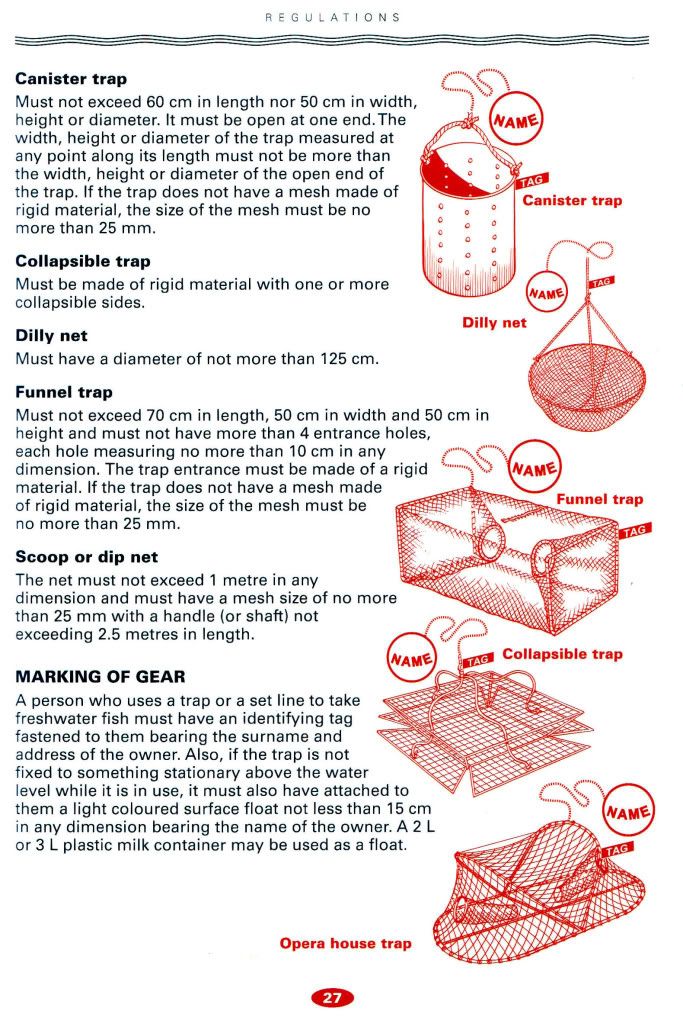 There are a number of protected species (all saltwater) which are found
here
For freshwater, under the Nature Conservation Act the following cannot be caught or sold in Queensland. There aren't many, currently:
* Elizabeth Springs goby (Chlamydogobius sp. A)
* Edgbaston goby (Chlamydogobius sp. B)
* Red-finned blue-eye (Scaturinginichthys vermeilipinnis)
* Oxleyan pygmy perch (Nannoperca oxleyana)
* Honey blue-eye (Pseudomugil mellis)
The following species are considered Noxious are are illegal to catch/posses. If found, you can report said species via
this page
* Bluegill
Lepomis spp.
* Chinese weatherfish (weatherloach)
Misgurnus anguillicaudatus
* Electric eel
Family Gymnotidae
* Carp
Cyprinus carpio
* Climbing perch
Anabus testudies
* Grass carp
Ctenopharyngodon idella
* Largemouth bass
Micropterus salmoides
* Gambusia
Gambusia holbrooki
* Nile perch (live)
Lates niloticus
* Parasitic catfish Family
Trichomycteridae or Vandellinae
* Pike cichlid
Crenicichla spp.
* Piranha
Family Serrasalmidae
* Snakehead
Channa spp.
* Tiger catfish
Pseudoplatystoma fasciatum
* Tigerfish
Family Hydrocyninae or Erythrinidae
* Tilapia
Tilapia, Oreochromis or Sarotherodon spp.
* Walking catfish
Family Clariidae (predaceous)
For
more information
on Noxious/banned species
There are also a few off-limits areas for fishing, see
here
NSW:
For recreational fishing in NSW for both freshwater and saltwater (if over 18) you are required by law to pay the NSW Recreational Fishing Fee and carry a receipt showing the payment of the fee. Fees are for three days ($6), one month ($12), a year ($30) or three years ($75), payable
online
,
from standard and gold fee agents
, by calling 1300 369 365 or from most Kmart stores in NSW.
New South Wales also has provision for bag and possession limits to prevent over-fishing, see
here
Certain methods are legal for collection, see
traps and nets
,
line fishing
and
illegal methods
There are also a number of closure and restricted areas for fishing, see
here
and a guide to freshwater fishing in NSW waters
here
VIC:
Again, in Victoria, you are required to purchase a licence if over 18 + under 70 and fishing in
public
waters. These cost according to type: 48 hours ($5.50), 28 days ($11), one year ($22) and three years ($60). These are available from DPI/DSE offices, most retail fishing tackle stores, Shell
Touch outlets (48-hour and 28-day RFLs) or the
DPI website
Bag + collection limits do apply, see
here
for information
Collection methods are limited to (per person):
* 2 'lines'
* 2 hooks per line
* 2 bait traps, labelled
* 10 hoop nets, labelled
* Dip/landing nets restricted in National Parks
* Bait (Hauling) nets limited to certain waters
* NO yabby pots of an opera/folding frame construction allowed
There are a number of restricted and closed waters, see
here
And information on
fishing safety and contacts
NT:
A person who wishes to fish for recreation in Northern Territory waters does not require a licence to do so. However, recreational fishers currently need a temporary licence for recreational fishing on and over aboriginal granted land and adjoining waters. Enquiries should be directed to the Northern Land Council (NLC) on 1800 645 299 or by visiting the
NLC website
Collection limits apply for the Northern Territory - A person may not possess more than 30 fish or the equivalent of 30 fish .
Species exempt from the general possession limit are:
* Crabs and tropical rock lobsters;
* Prawns;
* Octopus, cuttlefish and squid;
* Bait fish (mullet, whiting, garfish, pilchards, .
sardines, herrings);
* Marine bream (Acanthopagrus sp.); and
* Echinoderms (sea urchins and starfish).
For protected species and areas, see
pdf
Also, there are restrictions on equipment able to be used:
* amateur drag net (not longer than 16m excluding lines, droop <2m, mesh size <28mm) which must be used in more than 30cm of water
* cast net (diameter <6m, mesh size <25mm, drop <3m when suspended from centre)
* float line attached to one/one set of hooks
* max 5 freshwater pots (<0.3m3 in volume, no more than 2 entrances, no material placed in the pot which is likely
to entangle fish or aquatic life
* gaff
* hand spear which can only be propelled without devices/assistance
* knife
* bow and arrow
* scoop net
* hand line or rod and reel with no more than 5 hooks
* troll line
TAS:
To fish in an inland water you must hold a current Angling Licence and fish with a rod, reel and line during the angling season that applies to the water. These are available
here
regulations on waterways and bag limits
SA:
No licence is required for recreational fishing in South Australia.
Limits on gear:
* up to two rods, or two handlines, or one of each.
* one teaserline when squid fishing
Each line may have up to three hooks attached or up to five hooks joined eye to shank or threaded together. This will be considered as one hook.
* bow and arrow (only for European Carp in tributaries of the Murray river)
* max 3 Drop net (max hoop diameter 107cm, max depth 92cm w/ 1 white buoy of 4 litres volume if unattended)
* Dip Tin (perforated metal basket with handle used to catch freshwater shrimp in the River Murray only; L:40cm W:30cm D:20cm Perforations: 0.8cm dia.)
* fish/hand spear/powerheads (regulations apply)
* Hand net (dab net, dip net or shrimp net w/ conical shaped netting joined to a hoop which is attached to a rigid handle; Max dia. 1m, Max depth 1m)
* Shrimp Trap (Max dimension: 40cm, Max height: 20cm, Max funnel diameter: 3cm, Min mesh size: 5mm)
closed areas and seasons
catch limits
WA:
Western Australia requires different licences for different types of fishing. They are priced as follows and can be bought
here
, from the Dept. of Fisheries and Australia Post outlets:
Rock Lobster $35.00
Abalone $41.00
Marron $24.00
Freshwater Angling
$24.00 (required to fish for all freshwater fish in waters south of Greenough (29 o S. latitude) and above the tidal influence including all lakes, dams, rivers and their tributaries)
Net fishing (gill, haul, throw) $29.00
All of the Above $81.00
Also, children under 16 don't need a licence.
Collection limits apply to certain species only, see
here
IN FRESHWATER
, Angling with a fishing rod and line, or hand line, only. Limit of one line per fisher.
All other fishing methods are illegal
.
Restricted areas apply only if fishing for species that require a licence or trout, see
here
and
here
There is also a note from Dave that is relevant to the thread:
Enjoy guys.