Sleepy Cod
Oxyeleotris lineolata
Photo thanks to murrayman85
Temperature:
22 - 27c
pH Level:
6.8 - 8.0
General Hardness:
Soft - Moderate
Max. Size:
45cm
Realistic Max. Size:
35cm
Tank Size:
5x2x2
Feeding:
High protein pellets and meaty foods.
Temperament:
Predatory but ignores fish too big to eat Mostly.
About:
Strangely Sleepys are one of my favourite fish. They are hideously ugly, sedentary and give the impression that they are stuck in a perpetual state of grumpiness Sounds like me! They often spend hours at a time completely still sitting on substrate or anything else for that matter. They are known to sleep vertically with their noses pointed either straight up or down Very concerning when you first see it.
They are pretty good tank mates for bigger fish. They like to have their own space and in my experience only bully other fish if confined too closely with others.
They are hit and miss feeders, sometimes feeding aggressively sometimes barely eating for days Best not to worry about it, they will eat when hungry. They can be hard to feed when kept with hyperactive feeders like Scats and Barra. I feed mine on predator sticks, mulies and prawns. Mine wont touch usual aquarium pellets but will occasionally eat Skretting Nova pellets. They are widely considered difficult to feed but I think they just give that impression with their slow metabolism and irregular eating habits, as I said; they eat when hungry. Sleepys are sedentary ambush predators and dont use a whole lot of energy so dont eat as much as they look like they should. Since I have moved mine onto Hikari Carni Sticks, he seems to have become a little more active and aggressive; he also eats more regularly than on other feeds. I cannot recommend Hikari highly enough for Sleepy Cod.
I have found them to be reasonably hardy but seem somewhat sensitive to less than ideal water conditions when other fish seem perfectly happy so it pays not to get lazy with water changes. I reckon they are better kept in a tank with little or no substrate to help keep nitrates down and the water generally better for longer.
I was keeping mine with some salt (<1ppt) but gradually moved to fresh water. I have a tank half full of vallis to help keep water clean and to give the Sleepy somewhere to hide and wait in ambush mode. I find the more interesting their environment, the more interesting and naturally they behave. A really great fish to observe.
Young Sleepys are pretty cheap, less than $20 for a 6 8cm fish. I've seen 2 adults advertised in WA over the last 12 months, both were going for $50.
Article reproduced with permission
of the author, Paul Cuttriss (murrayman85). Many thanks for this excellent contribution.
DE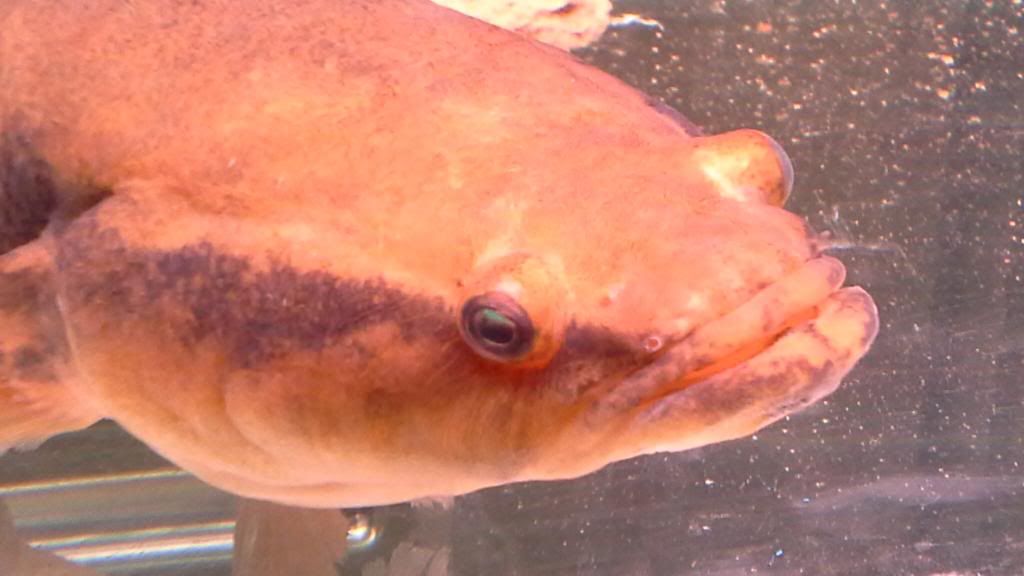 Photo thanks to murrayman85